Stadium Design, Part II
I've pretty much fallen in love with DM's idea of basing the stadium design on the Federal Triangle. For starters, it is based in Washington's rich architectural heritage. The Federal Triangle was begun in the first decade of the 20th Century, when Washington implemented the
McMillan Plan
, which gave us the essential layout of modern D.C. To give you an idea of the general look of the Federal Triangle design, I hereby insert this picture or photograph:
home plate under the dome?
Note a couple of features - quasi-neoclassical columns on the outside and a red-tiled roof to give the Federal Triangle a distinctive look from above.

Now translate that into a ballpark design. The exterior with an alabaster facade rising straight from the street with rows of windows peeking into the concourse. The top of the building capped with a Nationals-red tile roof. I would even propose to make the interior similar to this design - how about a three-decked structure with the second and third decks essential on top of the lower deck, with perhaps 20 rows of the first deck uncovered? Have the second and third decks right on top of the field to increase the intimacy as well as the home-field-noise-advantage.

I think there has been way too much emphasis on removing poles and supports and having 45,000 unobstructed seats. Any fan would trade 20,000 closer-in upper deck seats for the 500 or so obstructed views it creates in the lower deck. And, having sat in obstructed view seats in Comiskey Park before the tore it down...you mostly get over the obstruction if it gets you a cheaper seat. Think Griffith Stadium, without all the ugly angles:



thank goodness we'll play in color this year
Maybe a little of old Comiskey Park in its foul-pole to foul-pole shape: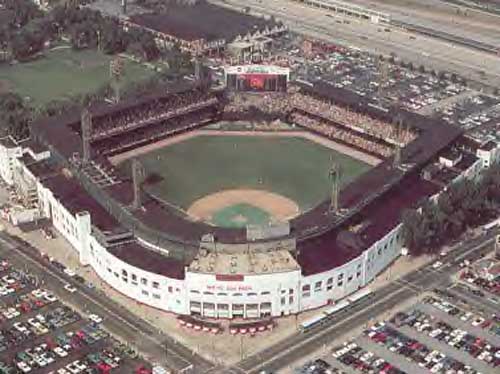 home of your 1917 world champion White Sox
I'd love to see those design elements incorporated in the Nats park. But, I leave the comments section open for further thoughts.
Note - the design of a new DC stadium on
Ballparks.com
goes a long way toward meeting my design hopes:
as the ominous shadow from the mothership slides over D.C.